---
PAC Description:
The Principal's Advisory Council (PAC) is a selective peer-mentoring group of high-achieving student leaders, who serve under Principal Dr. Charles Park as ambassadors to Palos Verdes High School (PVHS) and to the community. PAC is an elective class with both an academic and a citizenship grade and a Peer Mentoring Course on the transcript. Additionally, the Principal's Advisory Cohort is a smaller group within PAC and consists of students who have the potential to become the future leaders of PVHS. Applications for the Principal's Advisory Council can be submitted to Dr. Park, and the interviews are held at the end of each school year.
Applications for freshmen who want to join the Principal's Advisory Council can be found below.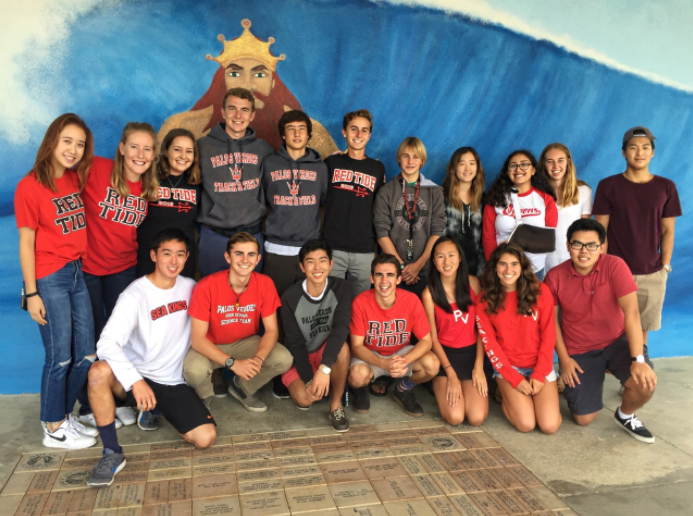 ---
Public Relations and Media Committee
The Public Relations and Social Media Committee, led by senior Alison Hsieh and consisting of Brandon Nash, Sidney Smith, Keaton Heise, and Nathan Tsai, is responsible for organizing PAC and all of its members. The committee oversees meeting and event schedules while acting as the major communication bridge between Dr. Park and his council members. The group is also in charge of media relations, managing the council website and Twitter account, @pvhs_pac. The group's main objective is to provide council members with consistent and organized information, while building a strong and positive image of PVHS in the public light.

Special Projects Committee
The Special Projects Committee was newly introduced to tackle unique and complex projects that will affect the future direction of PVHS. Headed by senior Josh Paik, the special projects group, along with Kevin Crump, Andy Kim, Skylar McVicar, Amy Moon, Austin Nash, and Jonathan Wang, meets every week to deliberate on ways in which PAC can implement viable solutions to PVHS. The Special Projects Committee's main objective is to effect change that will benefit the campus, school, and student body.

Peer Mentoring Committee
The Peer Mentoring Committee collaborates with administration, teachers, and counselors regarding ways to lead school policies and programs. Led by Abby LaPine, the Peer Mentoring Committee, along with Caroline Beecher, Audrey Trell, Thomas Hill, Matt Usui, and Emmy Rener, works closely with our school counselors to give guidance to students while working with them peer-to-peer. The Peer Mentoring Committee will also be launching a tutoring program which will make tutoring services available to all student everyday on campus. The Peer Mentoring Committee also provides mentoring to the Cohort group.

Outreach Committee
The goal of the Outreach Committee is to show intermediate schools and elementary schools how great Palos Verdes High School is and to give younger, prospective students an introduction to the Sea King Family. The Outreach Committee wants to show how the students of PVHS all come together as one when, for example, Red Tide goes crazy at football games.
Under the guidance of Connor Wescott, the Outreach Committee, including Jason Law, Jack Larkin, Shane Irwin, Hailey Chen, Sophia Breton, Alex Fresch, visits elementary schools and intermediate schools to promote PVHS and why it is so great. The Outreach Committee wants to share the amazing experiences here at PVHS with the younger generation and keep building the Sea King Family.