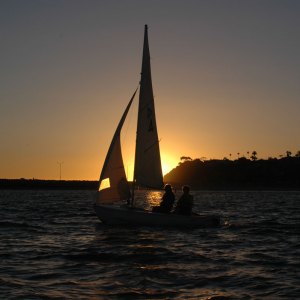 The purpose of Tradewinds Literary Publications can be summed up in one phrase: "Giving a voice to the voiceless." While the Triton Yearbook highlights people whose names are already known around campus—the athletes, ASB leaders, the honor societies, the clubs, Tradewinds shines a spotlight on the overlooked writers, poets, designers, photographers, and artists in an effort to immortalize their work for future generations to enjoy.
Years ago Tradewinds was a literary publication which had a short shelf life. It was filled with poems, short stories, and some artwork and mimeographed. That publication may have been pulled off the shelves and shared in English classrooms on the rare occasion, but the new Tradewinds staff wanted to preserve the student works in a more permanent way. This staff approached the yearbook teacher and asked if the literary magazine could be housed inside the yearbook. So, even though the yearbook contains the literary magazine, the staff of Tradewinds is quite independent. This staff currently meets as a 7th period class and focuses on finding the hidden artists, poets, and writers of our school.
PVHS Tradewinds is a student-run publication dedicated to the idea of giving all of our students a chance to shine. Students submit their artwork, photos, short stories, and poems; editors select the ones which best embody the theme and which best reflect literary or artistic depth. Then, the staff designs the spreads in an effort to bring the qualities of the written work and the artwork together. Literary Publication members collaborate with adviser, Ms. Susan Pavelka in room 415, and compile this yearbook section using an online publishing program.