Visual & Performing Arts Department Chair, Digital Arts Teacher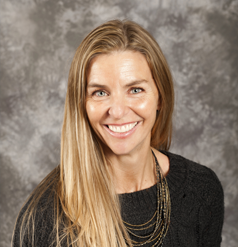 Ms. Kristy Jimenez
Email: [email protected]
Phone: 310-378-8471 x43231
Kristy Jimenez is the Visual and Performing Arts Department Chair and teaches Photography and Animation at PVHS. She graduated with a Bachelors Degree from UCSB in the Arts, has a Fine Arts Teaching Credential and Clear CLAD Certificate from UCI, and a Masters Degree in Educational Technology from Pepperdine University. She has been teaching in the high school Fine Arts and Digital Media Arts, since 1993 and happy to be a Sea Queen at PVHS.
The PVHS Visual and Performing Arts Department prides itself in creating and providing interesting and challenging opportunities to prepare students for college, a job, or just a positive well-rounded artistic experience in high school.
Our Visual and Performing Arts Department offers highly specialized and diversified curricula, and programs in the forms of classes, workshops, and groups, all under one roof. Our department programs at PVHS, is primarily funded by our generous Booster Club.
The Visual and Performing Arts Department is among the most comprehensive and diverse to be found in most any high school, in the country, public or private. All courses are UC/CSU approved.  At the introduction level, course offerings include: Ceramics, Drawing & Painting, Printmaking, Animation, Photography, and Sculpture and Video Production, Drama, Jazz Orchestra, PE Band/Marching Band, Dance. At the more advanced levels, the departments offer more specialized curriculum in AP Art History, as well as AP Studio Art 2-D and 3-D, including Surfboard Shaping and Glass Blowing, the National Award winning Live from 205, a live student news broadcasting team, AP Music Theory, Concert Band, Musical Theater, and Competition Dance Team.  Students are able to advance to second and third year courses in Animation, Photography, Video, Sculpture, Choreo, Orchestra, Jazz, and Drama.
The Department of Visual and Performing Arts is dedicated to its mission of creating a comprehensive art-school experience within the context of a publicly funded high school. At the introduction level, we provide a diverse population of aspiring artists and art scholars with access to quality education combining a broad-based experience with a firm historical, theoretical, and practical foundation art curriculum. There is also specialized study in the areas of 3-D art, art history, and studio art. At the advanced level, our programs are designed with a dual emphasis on tailoring programs of study to individual students while fostering shared experience among a community of students.
Our faculty is committed to the belief that an education in the visual arts and related scholarship can be grounded in tradition while geared toward innovation, can foster both discipline-centered and interdisciplinary activity, and can achieve a fusion of informed dialogue, practice, and production.